Occupy movement
From Wikispooks
"A
non-violent
,
decentralised
movement which provoked a violent reaction from the
authorities
. A mass awakening for millions of youngsters." cannot be used as a page name in this wiki.
The Occupy movement (often, just Occupy) was a decentralised movement which has never had clearly-articulated objectives, but still managed for months to unify activists with a wide variety of goals.[2]
Origins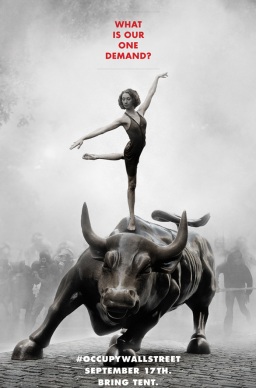 The initial impetus for an occupation of Wall Street came from the Canadian activist group Adbusters. The commercially-controlled media ignored the movement for weeks, before finally reporting on it after it was being widely reported on the internet.
Spread
The movement quickly spread across the USA and worldwide. Methods were different according to local circumstances, but the unifying tactic was to peacefully occupy public spaces.
Police support
Chris Hedges reports hearing several quiet encouragement from rank and file members of US police. Some participated in the demonstration. Philadelphia Police Captain Ray Lewis was arrested for participating in the Occupy Wall Street protests in 2011.
US Government response
A coordinated response violently eradicated occupy camps across USA. The US government in its planning documents designated OWS repeatedly as a "terrorist threat".[3]
Dallas Occupy Plot
Full article: Dallas occupy plot

By October 2011 the Dallas occupy plot had been drawn up, in which the FBI was a party to plans to use snipers to assassinate the leaders of the movement. The plans were never carried out, but were partially exposed in 2013, by a FOIA request. A February 2015 ruling of Judge Rosemary M. Collyer allowed the plot to remain secret.
References