Occupy movement
Jump to navigation
Jump to search
 Occupy movement  
(Civil unrest, Protest)

Unofficial logo

Formation
17 September 2011
Interest of
Caleb Maupin, Tim Pool, US/Police
A non-violent, decentralised movement which provoked a violent reaction from the authorities. A mass awakening for millions of youngsters.
The Occupy movement (often, just Occupy) was a decentralised movement which has never had clearly-articulated objectives, but still managed for months to unify activists with a wide variety of goals.[2]
Origins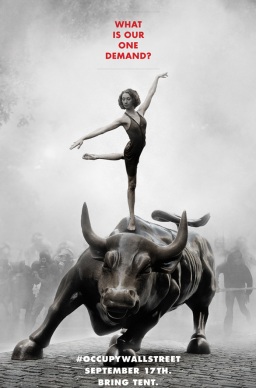 The initial impetus for an occupation of Wall Street came from the Canadian activist group Adbusters. The commercially-controlled media ignored the movement for weeks, before finally reporting on it after it was being widely reported on the internet.
Spread
The movement quickly spread across the USA and worldwide. Methods were different according to local circumstances, but the unifying tactic was to peacefully occupy public spaces.
Police support
Chris Hedges reports hearing several quiet encouragement from rank and file members of US police. Some participated in the demonstration. Philadelphia Police Captain Ray Lewis was arrested for participating in the Occupy Wall Street protests in 2011.
US Government response
Kurt Nimmo wrote in 2018 that "The DHS acted as a clearing house for surveillance of the Occupy Wall Street movement. FOIA documents released to Truthout show how the agency worked with local law enforcement and local government officials "in any wholesale manner" on a coordinated subversion and neutralization program aimed at the nationwide protest group." [3]
A coordinated response violently eradicated occupy camps across USA. The US government in its planning documents designated OWS repeatedly as a "terrorist threat".[4]
Dallas Occupy Plot
Full article: Dallas occupy plot

By October 2011 the Dallas occupy plot had been drawn up, in which the FBI was a party to plans to use snipers to assassinate the leaders of the movement. The plans were never carried out, but were partially exposed in 2013, by a FOIA request. A February 2015 ruling of Judge Rosemary M. Collyer allowed the plot to remain secret.
Legacy
The Occupy movement introduced the phrase "The 1%", as opposed to "The 99%". This is a polarising perspective, since it diametrically opposed this group top the 99% that clearly highlights the illusory nature of the modern "democracies", which consistently promote the agenda not of the vast majority of the electorate but of the ruling class.
Related Quotation
| Page | Quote | Author | Date |
| --- | --- | --- | --- |
| Andrew Breitbart | "The true purpose of the Occupy movement appears to be further economic and governmental destabilization, at a time when the world is already facing major financial and political challenges. By embracing the Occupy movement, President Barack Obama, the Democrat Party, and their union allies may be supporting an effort to harm both the domestic and global economies; to create social unrest throughout the democratic world; and to embrace other radical causes, including the anti-Israel movement." | Andrew Breitbart | 14 October 2011 |
Related Document
Many thanks to our
Patrons
who cover ~2/3 of our hosting bill. Please join them if you can.
References