Jeffrey Epstein/"Suicide"
Jump to navigation
Jump to search
 "suicide"
Jeffrey Epstein/"Suicide"
CCTV apparently not being available, a Photoshop artist's impression of how the reported suicide might have taken place...
Jeffrey Epstein
allegedly
committed
suicide
by hanging himself. This is questionable for many reasons,
[1]
[2]
however, the
official narrative
for the case can be found in this
New York Times editorial
, which explains with much detail how unwell he felt in this prison and how he may decided to take his own life, but questions very little how it was possible for him to jump a rather short distance and break his neck before touching the ground.
Concerns
Earlier "attempted suicide"
In late July, Epstein was found nearly unconscious with neck injuries in his prison cell in what was portrayed as a suicide attempt, other accounts at the time spoke of a possible attack by a cellmate who did deny this.[3] He was subsequently placed on a "suicide watch". The Daily Mail reported that "There was no indication that he might try to take his own life" and that he just claimed that someone had tried to kill him.[4] Court papers released in 2020 stated that the Metropolitan Correctional Center staff had "inadvertently" deleted the CCTV of that night.[5]
Autopsy
The autopsy noted that his neck was broken, considered an unusual circumstance.[6] The event was ruled a suicide. His laywers, Martin G. Weinberg, Reid Weingarten and Michael Miller pronounced themselves "not satisfied with the conclusions"of the report. [7]
Scenarios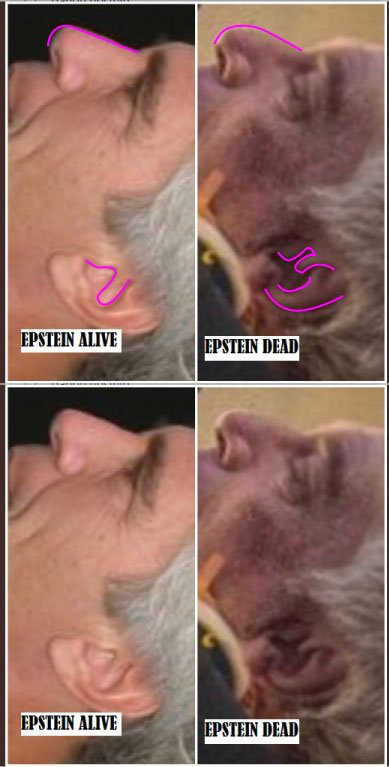 With the available information it stands to reason that it is also possible that he was:

or b) was given the method to kill himself ( poison or medication that relaxes muscles to a strong degree )
or c) was switched out, his death simulated and is now in a witness protection program of sorts, to avoid public testimony of his sexual blackmail activities

In 2019 some of his defense lawyers endorsed a), since there are "significant doubts" regarding "the conclusion of suicide".[11][12] David Schoen, who was leading the legal team in the final days, concluded in 2020 that it was a homicide.[13] Eric Rasmusen, Professor for business economics[14] does consider c) as a possibility among others.[15][16]
Still alive?
For the theory that he indeed is still alive also speaks that fact, that he successfully provided what was required over a long timespan, that he had many friends in powerful positions who bonded with him over what he was offering and that it wouldn't reflect well on the network in the background if they have him killed this way. Furthermore, it is more than likely that Epstein would have kept a dead man's switch for circumstances like this,[17] comparable to Michel Nihoul who at a late point during the Dutroux Affair let it slip while interviewed, that he has the Belgian government under his control:
"Everyone has compromising dossiers on one another, to be used as leverage in the right situation."
Michel Nihoul (2001)  [18]
If he were still alive, however, it would mean that that he remains a life long burden for somebody to take care of.
First reports
Messages posted on 4chan around 40 minutes before the news of his alleged death broke in the mainstream media,[19] were: Jeffrey Epstein DEAD Anonymous (ID: rPtND1Si) 08/10/19(Sat)08:16:36 No.222518349 - "dont ask me how I know, but Epstein died an hour ago from hanging, cardiac arrest. Screencap this" - "Was called out as a cardiac arrest at the manhattan federal detention facility. Worked asystole for 40 mins" - "lets say I know. Dont need a glowie coming to my crib. But they declared death at New York Presbyterian Lower Manhattan ER" - "screencap this then brudda and post when the news breaks" - "hanging" - "worked asystole arrest for 40 minutes, als intubated in the field/epi/2 liters NS infused. Telemetry advised bicarb and D50 in field. Pt transported to Lower Manhattan ER and worked for 20 minutes and called. Hospital administrator was alerted, preparing statements".[20]
On August 10, Epstein was reportedly found dead after "an apparent suicide, law enforcement sources told the Post Saturday.[22] He had been reportedly removed from the "suicide watch", and placed in a cell without CCTV.[23] Other reports talked of a "camera malfunction".[24][25] On 28 August 2019, Reuters referenced "Two cameras that malfunctioned".[26]
Behavior in prison
Matthew Russel Lee of Innercitypress reported on July 31st that Epstein was being allowed to use all day, every day one of the only two legal visit rooms for prisons in the Special Housing Unit of the Metropolitan Correctional Center: "Epstein has shifts of lawyers purporting to meet with him all day, in a room where the other Criminal Justice Act lawyers say Epstein has access to the Internet. The CJA lawyers have had to wait up to four hours to see their clients. The CJA lawyers particularly expressed outrage to Inner City Press that Epstein's lawyers on July 31 said they were accessing Epstein's ability to exercise his Constitutional rights to participate in his defense while in the MCC, when he is hogging one of the two legal meeting rooms. What about us? "It's outrageous," one of the lawyers told Inner City Press. "El Chapo is the only other one who tried this, but he was in a special unit so it didn't impact the rest of us." Other child sex defendants have conditions that they cannot use the Internet. But with Epstein paying lawyers to meet with him all day in the MCC, he can use the 'Net. Judge Richard M. Berman of the U.S. District Court for the Southern District of New York seems unaware of this abuse; the MCC Legal Department has yet to act."[27] Forbes reported that the day after being taken off suicide watch, Epstein spent at least two hours locked up alone with a young woman, in a private room reserved for inmates and their attorneys, according to an attorney who was visiting the prison that day: "The optics were startling. Because she was young. And pretty," said the visiting attorney, who asked that his name not be used because he didn't want to create friction with the prison administration.[28]
Cover-up
US Attorney General William P. Barr stated that "I was appalled to learn that Jeffrey Epstein was found dead early this morning from an apparent suicide while in federal custody. Mr. Epstein's death raises serious questions that must be answered. In addition to the FBI's investigation, I have consulted with the Inspector General who is opening an investigation into the circumstances of Mr. Epstein's death."[29] Of note is, that in In 1973, Donald Barr, father of William, hired Epstein as calculus and physics teacher for the Dalton School in Manhattan.[30] William Barr has recused himself from the 2019 Epstein case, since a law firm that represented Epstein was a firm that he subsequently joined.[31]
Subpoena
The FBI subpoenaed "as many as 20 officers at the federal prison in Manhattan".[32]
Reporting
The New York Post, a paper that had a lot of detailed reporting on Epstein while he was in jail, wrote: "Jeffrey Epstein's shocking death occurred at an ultra-secure federal lock-up where suicide is supposedly next to impossible" and noted that sources disagreed about the length of his "suicide watch".[33] A former inmate of the Metropolitan Correctional Center in Lower Manhattan who was interviewed by the same newspaper expressed serious doubt that a suicide by hanging is at all possible in that unit: "There's no way that man could have killed himself. I've done too much time in those units. It's an impossibility. Between the floor and the ceiling is like 8 or 9 feet. There's no way for you to connect to anything. You have sheets, but they're paper level, not strong enough. He was 200 pounds — it would never happen. When you're on suicide watch, they put you in this white smock, a straitjacket. They know a person cannot be injurious to themselves. The clothing they give you is a jump-in uniform. Everything is a dark brown color. Could he have done it from the bed? No sir. There's a steel frame, but you can't move it. There's no light fixture. There's no bars. They don't give you enough in there that could successfully create an instrument of death. You want to write a letter, they give you rubber pens and maybe once a week a piece of paper. Nothing hard or made of metal. There's up to 80 people there. They could put two in cell. It's one or two, but I'll never believe this guy had a cellmate. He was too blown up. ... But it's my firm belief that Jeffrey Epstein did not commit suicide. It just didn't happen."[34]
Aftermath
After Ghislaine Maxwell was found guilty, Epstein's prison guards were let off the hook for falsifying records.[35]
Related Quotation
Many thanks to our
Patrons
who cover ~2/3 of our hosting bill. Please join them if you can.
References