Wallace J. Hilliard
Jump to navigation
Jump to search
 Wallace J. Hilliard 

(businessman)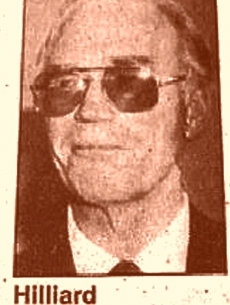 Hopsicker connects him to 9-11 and to heroin importation from Afghanistan.
A self-styled Mormon bishop and multi-millionaire flight school businessman and flight school owner who has been linked both to 9-11 and to drug trafficking.[1]
Background
In 1969, Wally Hilliard and Ron Weyers launched Wisconsin Employers Group, an insurance firm. He partnered with Rudi Dekkers to buy Huffman Aviation a few years before 9-11.[1] Hilliard had raised the money by selling his healthcare insurance fund in Wisconsin and "retired" to Florida. Hilliard however denies that he owned Huffman, stating that "I never had stock ownership. The only thing I did was loan money to Rudi. I got paid back at 30 cents on the dollar."[2] Wally and Rudi had a falling out shortly after 9/11.[3]
Drug trafficking
Daniel Hopsicker quotes a a former Huffman Aviation executive that "Sometimes when things don't make business sense, it's because they do make sense... just in some other way."[1] He has written that "Wally Hilliard owned jets that flew at least 39 weekly flights into Orlando carrying drugs."[4] Hopsicker alleged that Mohammad Atta was importing heroin with Hilliard's help, selling Afghanistan's opium and heroin to finance the Taliban, a charge that Hilliard refused a chance to publicly deny.[5]
Heroin seizure
As an owner of Huffman Aviation, Hilliard was the owner of a Lear jet that in July 2000 was seized by the DEA after they found 43 pounds of heroin on board, at that time the biggest seizure of heroin ever found in central Florida.[5] Hilliard maintained he was the "innocent owner" of the plane, and pointed to two other co-owners.[6]
9-11 connection
Hilliard features in Welcome to Terrorland: Mohamed Atta and the 9-11 Cover-Up in Florida, a book by Daniel Hopsicker. Hopsicker notes that three of the 9/11 pilots were trained at Huffman Aviation. Hilliard's connections with Mohamed Atta seem to have been particularly close. Atta returned to Venice Florida on three separate occasions during the last six weeks of his life.[1]
Connections
It has been reported that Hilliard did business with Myron Du Bain.[2]
Many thanks to our
Patrons
who cover ~2/3 of our hosting bill. Please join them if you can.
References