Pan Am Flight 103/Cover-up
Jump to navigation
Jump to search
 Pan Am Flight 103/Cover-up(Cover-up)
Date
21 December 1988 - Present
Description
Just a few weeks after the December 1988 newspaper reports, Bernt Carlsson's name was more or less erased from the corporate media reporting of the Lockerbie event.
Nicknamed Sir Cover-up Cabinet Secretary Sir Jeremy Heywood has been accused of suppressing 'politically sensitive information' by delaying the release into the public domain of government files dealing with the bombing of Pan Am Flight 103.[1]
Nelson Mandela accused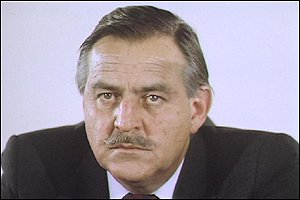 Three weeks after the Lockerbie disaster, the apartheid regime accused Nelson Mandela and the ANC of masterminding the sabotage of Pan Am Flight 103. This accusation was made on 11 January 1989 by South African Foreign Minister Pik Botha who had travelled to Stockholm in Sweden with other foreign dignitaries – including UN Secretary-General Javier Pérez de Cuéllar – to attend the memorial service of United Nations Commissioner for Namibia, Bernt Carlsson.[2] Interviewed by Sue MacGregor on BBC Radio 4's Today Programme, Pik Botha alleged that he and a 22-strong South African delegation, who were booked to fly from London to New York on 21 December 1988, had been targeted by the ANC. However, having been alerted to these ANC plans to kill him, Pik Botha said he managed to outsmart them by taking the earlier Pan Am Flight 101 from Heathrow to JFK, New York.[3] Pik Botha's claim to have been booked to travel on Pan Am Flight 103 was later shown to be false.[4]
P. W. Botha quits
On 18 January 1989, President P W Botha was reported to have suffered a mild stroke which prevented him from attending a meeting with Namibian political leaders on 20 January 1989.[5] On 2 February 1989, P W Botha resigned as leader of the National Party (NP) anticipating his nominee – finance minister Barend du Plessis – would succeed him. Instead, the NP's parliamentary caucus selected as leader education minister F W de Klerk, who moved quickly to consolidate his position within the party. In March 1989, the NP elected de Klerk as state president but Botha refused to resign, saying in a television address that the constitution entitled him to remain in office until March 1990 and that he was even considering running for another five-year term. Following a series of acrimonious meetings in Cape Town, and five days after UN Security Council Resolution 435 was implemented in Namibia on 1 April 1989, Botha and de Klerk reached a compromise: Botha would retire after the parliamentary elections in September, allowing de Klerk to take over as president. However, P W Botha resigned from the state presidency abruptly on 14 August 1989 complaining that he had not been consulted by de Klerk over his scheduled visit to see president Kenneth Kaunda of Zambia: "The ANC is enjoying the protection of president Kaunda and is planning insurgency activities against South Africa from Lusaka," Botha declared on nationwide television. He said he had asked the cabinet what reason he should give the public for abruptly leaving office. "They replied I could use my health as an excuse. To this, I replied that I am not prepared to leave on a lie. It is evident to me that after all these years of my best efforts for the National Party and for the government of this country, as well as the security of our country, I am being ignored by ministers serving in my cabinet."[6]
Thatcher visits Namibia
At the end of March 1989, Margaret Thatcher and the rising star in Conservative Research Department, David Cameron, visited apartheid South Africa.[7] The past and future British Prime Ministers made a point of visiting the Rössing Uranium Mine in Namibia (illegally occupied by apartheid South Africa in defiance of UN Security Council Resolution 435). In 1989, the Rössing mine was jointly owned by Rio Tinto Group and the Iranian Government, and was supplying uranium to develop Iran's nuclear programme. Mrs Thatcher was so impressed with the Rössing Uranium Mine that she declared it made her "proud to be British", a sentiment echoed by David Cameron.[8]
Pressure on UN's man
Extract from Patrick Haseldine's letter to The Guardian of August 5, 1991, entitled Missing diplomatic links and the Lockerbie tragedy:
Secret nuclear deal
It has recently been reported that Margaret Thatcher and David Cameron concluded a secret nuclear deal with the apartheid regime during their visit to South Africa in 1989.[10]
Stateside silence
Full article: Patrick Haseldine#Lockerbie cover-up

Ronald Reagan, the outgoing US president, was still smarting after having his veto overridden in 1986 by the US Congress of the Comprehensive Anti-Apartheid Act which, inter alia, banned South African Airways from flying to the United States. Plus, according to Professor Francis Boyle's recent book, President Reagan had some old scores that he wanted to settle with Muammar Gaddafi.[11]
So, on 28 December 1988, when there was as yet no evidence of any country's culpability for the Lockerbie bombing and in one of the last acts of his Presidency, Ronald Reagan extended US sanctions against Libya and threatened renewed bombing raids on Tripoli and Benghazi. Vice-President George H W Bush had won the 1988 US presidential election easily defeating Democratic Party challenger Michael Dukakis (who would have branded P W Botha's apartheid South Africa a 'terrorist state'[12]) and was sworn in as US President on 20 January 1989.
Drawing upon his previous experience at the United Nations and as Director of the CIA, and maintaining his refusal to apologise for the US Navy's destruction of the Iranian Airbus in July 1988, President Bush Sr then arranged for Muammar Gaddafi to be 'fitted up' at the UN Security Council for the sabotage of Pan Am Flight 103. According to British investigative journalist Paul Foot: "In mid-March 1989, three months after Lockerbie, George Bush rang Margaret Thatcher to warn her to 'cool it' on the subject."[13]
British Blackout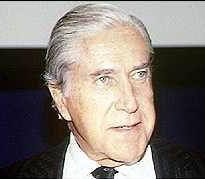 After years of sleuthing, Patrick Haseldine announced that UK mining magnate, Observer newspaper owner and MI6 operative[14] Tiny Rowland was the UK coordinator of the Lockerbie cover-up.[15] Haseldine states that Rowland recruited Emeritus Professor of Scots Law Robert Black to organise the British Blackout and to frustrate Nelson Mandela's plans for Lockerbie justice.
In January 1992, Mandela outlined his blueprint for the Lockerbie trial:
If no extradition treaty exists between the countries concerned, the trial must be conducted in the country where the accused were arrested;
The trial should be conducted in a neutral country by independent judges;
The trial should be conducted at The Hague by an international court of justice.
Five years later, President Mandela emphasised at the Commonwealth Heads of Government Meeting (CHOGM) in Edinburgh that "no one nation should be complainant, prosecutor and judge" in the Lockerbie case.
By 1999, the so-called "architect of the Lockerbie trial" had managed to blackout the whole Mandela blueprint. Professor Black:
ensured that the Lockerbie trial was not held in a neutral country. Instead, he arranged for the trial to be conducted from May 2000 to January 2001 at Camp Zeist, a former US Air Force base in the Netherlands which, for the duration of the trial, became British territory;
decreed that Scotland's Crown Office would be the 'complainant' at the trial;
arranged for Scotland's Lord Advocate Colin Boyd to be the 'prosecutor' at the trial; and,
insisted that – instead of 'independent judges' at the trial – all four Judges (Lords Sutherland, Coulsfield, MacLean and Abernethy) had to be from Scotland.
Although one of the two accused Libyans was found not guilty of the Lockerbie bombing, Haseldine alleges it was thanks to Professor Black that the other Libyan, Abdelbaset al-Megrahi, was found guilty.[16]
Haseldine comments that:
...for the past 20 years, Professor Robert Black has been suppressing the truth about the Lockerbie disaster, thus delaying justice for the 270 victims of Pan Am Flight 103 and their relatives. Prof Black was supported in his attempt to blackout apartheid South Africa's targeting of Bernt Carlsson on Pan Am Flight 103 by inter alia these assets of British intelligence:

John Ashton (Author, producer and researcher, see: The Maltese Double Cross[17]; the 2001 book "Cover-up of Convenience" by John Ashton and Ian Ferguson[18]; the 2012 book "Megrahi; You are my Jury" by John Ashton[19]; the 2012 article "Was Libya really behind it?" with John Ashton[20]; and a new book "Scotland's Shame: Why Lockerbie Still Matters" that was published by Birlinn on 3 October 2013[21]);

Ian Ferguson (Author, journalist and researcher, see: The Lockerbie Trial.com website of Professor Black and Ian Ferguson; and the 2009 film Lockerbie Revisited researcher Ian Ferguson[22][23]);

Robert Forrester (Secretary of Justice for Megrahi campaign group[24]);

Professor Andrew Fulton (see: "Former MI6 spy joins Armor Group to hunt down new business"[25]);

Dr Alan George (Middle East academic, recruited by solicitors Eversheds to reinforce the defence of Megrahi's co-accused Lamin Khalifah Fhimah[26]);

Dr Morag Kerr (Deputy Secretary of Justice for Megrahi campaign group, see [27], her book "Adequately Explained by Stupidity? Lockerbie, Luggage and Lies" was published in December 2013[28]); and,

Adam Larson (Associate of Dr Kerr and owner of The Lockerbie Divide website[29]);
Patrick Haseldine concludes: "It is high time that this 'Blackout over Lockerbie' was illuminated and dispelled."[30]
Blackballing Patrick Haseldine
On 14 January 2014, these three comments appeared on Professor Black's The Lockerbie Case blog in relation to an article by William Blum in the Foreign Policy Journal of 10 January 2014:[31]
1. pesceman said: So we know al-Megrahi was innocent. Of that there is no doubt. Why was the Heathrow break-in totally ignored from the very start - the Anti-Terrorism Police in the UK don't seem able to recall the event at all???? It is pretty obvious that the South African Civil Cooperation Bureau were wholly responsible and assisted in the cover up by UK Intelligence and UK Police.
2. Robert Black said: It is by no means obvious. And the notion that the CCB was responsible stems from Patrick Haseldine's fevered imagination. There is nothing whatever that counts as evidence to support it. No further comments giving credence to Mr Haseldine's ravings will be accepted on this blog.
3. Quincey Riddle aka Robert Forrester said: Dear Peaceman, I agree entirely with Robert Black vis-a-vis the South African theory. Mr Haseldine is frankly certifiably doolally and an extremely manipulative individual, whom I felt obliged to expel from JFM for his conduct. I would be careful too about laying too much store on the issue of the Heathrow break-in as being linked to Pan Am 103, maybe it was maybe it wasn't. In my view, the only significant factor here is that COPFS appears to have hidden a tree in a forest in terms of the evidence made available to the defence. That from my perspective is as reprehensible as the Gauci payments being denied to the court. Robert.
Related Document
References