Michael Gillard
Jump to navigation
Jump to search
 Michael Gillard  
(investigative journalist)

Born
1967
Nationality
British
Parents
Michael Gillard Sr
Exposed
David Hunt
Interests
• UK/Police/Corruption
• corruption

A UK journalist focused on exposing corruption
Michael Sean Gillard is an investigative journalist who in 2013 was named "Journalist of the Year" and awarded "Investigation of the Year".[1] He writes for various media outlets including The Bristol Cable (often with Alon Aviram),[2] and has a profile at Muck Rack.[3]
Background
Gillard is the son of former Observer investigative journalist Michael Gillard Sr. "He's a chip off the old block," says one ex-colleague, who describes him as focused, secretive and aspiring to the Woodward and Bernstein school of journalism.[4] Like his colleague Laurie Flynn, Michael Gillard is a World In Action alumnus, and worked on a documentary examining BP's Colombian security operations.[5]
The Connection
On 28 November 1998, The Independent reported on The Guardian's investigation into "The Connection", an award-winning Carlton documentary about the drugs trade which the newspaper claimed was a fake. A Hard News special on Channel 4 this evening corroborates the newspaper's central allegations against "The Connection", but questions the prominence The Guardian gave to the investigation, and the way in which it was conducted.
Exposing of David Hunt
Because of security concerns after exposing gangster David Hunt in the Sunday Times,[7] Michael Gillard was advised not to attend the awards ceremony. Instead Gillard's friend and journalistic collaborator Laurie Flynn accepted the award on his behalf – dedicating it in part to the whistleblowers from inside the police and elsewhere who come forward to tell the truth in the public interest.[8]
Safety of GM foods
On 1 November 1999, The Guardian published an article by Laurie Flynn and Michael Gillard on the safety of GM foods:
Publications
Corruption squad under fire
On 4 March 2000, The Guardian published an article by Laurie Flynn and Michael Gillard about Scotland Yard headlined "Corruption squad under fire".[10] Editor Alan Rusbridger soon came under intense pressure from the Metropolitan Police, culminating in a letter dated 2 August 2000 from Commander Andy Hayman, and made the editorial decision not to publish further articles on the subject of UK police corruption. The two journalists refused to be silenced, however, and published their book "Untouchables - Dirty cops, bent justice and racism in Scotland Yard" four years later.[11]
Untouchables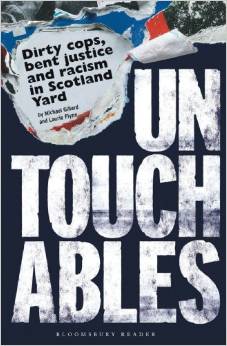 Reviews
On 2 May 2009, this review of the "Untouchables" 2004 edition was published on Amazon:
After it was reprinted (in 2012) another review on Amazon on 5 February 2013:
Legacy: Gangsters, Corruption and the London Olympics
Legacy: Gangsters, Corruption and the London Olympics is scheduled for publication on 10 September 2019.
As of 8 April 2021, our 15 Patrons are giving £72/month, nearly 3/4 of our webhosting bill.
If you appreciate our efforts, please help keep this site running by donating or spreading the word about our Patreon page
.
References