The Rwanda Document Project
Jump to navigation
Jump to search
A document archive pertaining to Rwanda from 1990 onwards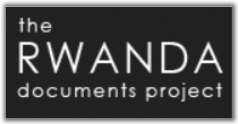 http://www.rwandadocumentsproject.net/
Started:
1 January 2008
Founder:
Peter Erlinder
Founder/Owner: Peter Erlinder
In its own words:
"The Rwanda Documents Project was started by Professor Peter Erlinder of William Mitchell College of Law in St. Paul, Minnesota as a result of his work as a defense attorney at the International Criminal Tribunal for Rwanda. The goal of the Project is to collect and make available primary source materials from international and national agencies, governments, and courts that relate to the political and social history of Rwanda from 1990 to the present."

A document sourced from The Rwanda Document Project
August 2020:
User:Robin
is aiming to crowdfund the webhosting bill.
Please help keep this site online.
If 1/1000 of our users donated just $1/month, that would cover our costs. Be that one in a thousand!