Dan Lasater
Jump to navigation
Jump to search
 Dan Lasater 
(drug dealer)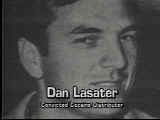 A convicted cocaine distributor and a friend of Bill Clinton. Mark Gorton names him as a member of the Dixie Mafia.
Dan Lasater is a convicted cocaine distributor[1][2] and a friend of Bill Clinton[3]. Mark Gorton names him as a member of the Dixie Mafia.[4]
Career
When he was aged 19, Dan Lasater started a hamburger chain. He met Clinton's half-brother, Roger Clinton, at the racetrack. Lasater sold his hamburger chain and moved to Arkansas, then founded the Ponderosa Steakhouse, a nationwide chain of 650 family restaurants; started a bond trading firm; and nurtured his love for horseracing.[5]
Over the next two years, the ties between Lasater and the Clintons grew stronger.

The Clintons benefited from the relationship. Lasater contributed money to the governor's campaign; lent Roger Clinton $8,000 to pay off a drug debt; sponsored fundraising parties at his offices; made his private plane available to the ambitious young governor for campaign jaunts; and encouraged his staff to donate to the governor's campaign, promising higher commissions to compensate for the donations, according to published reports. At one point in 1985, he also made his plane available to squire celebrities to a charity function organized by Hillary Rodham Clinton.

Lasater benefited from the closer ties, too. In the summer of 1985, Clinton successfully lobbied the Arkansas legislature to approve a contract for Lasater to sell $30.2 million in bonds for the new state police radio system. The contract netted Lasater's firm $750,000, according to a report in The Los Angeles Times.[5]
In 1984, Dan Lasater bought a ski resort in New Mexico for $20 million and used Clinton's name (with permission) to promote it. Later, a US Customs investigative report will note that the resort is being used for drug trafficking and money laundering.[3]
Lasater stated "Roger came to me and said that he owed a drug dealer $8,000, and that the drug dealer had threatened him, his mother and his brother [Governor Clinton] if they didn't pay and wanted to know if I would loan him the money, and I did."[6]
Pardon
In 1990, Lasater was pardoned by Arkansas Governor Bill Clinton after serving just six months in jail.[3]
Premature deaths
In 1994, Gandy Baugh, an attorney who had represented Clinton buddy and drug distributor Dan Lasater, allegedly jumped to his death. Baugh's law partner reportedly committed suicide one month later.[3][7]
References