Shayna Steinger
Jump to navigation
Jump to search
 Shayna Steinger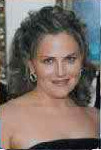 US official who issues visas to 12 of the 19 official culprits of 9/11.
A visa official in Jeddah who issued visas to 12 of the 19 hijackers blamed for 9/11. The 9/11 Commission Report does not mention her by name, but states that a single official gave visas to 11 of the hijackers - though other information included in the report suggests that the correct number should be 12, a figure Steinger herself has reportedly confirmed.[1][2]
She has reportedly been promoted since 9-11.[1]
References