INQUEST
Jump to navigation
Jump to search
 INQUEST
(Charity)   
Formation
1981
"…an organisation that shines a light into the state's darkest corners, often on behalf of society's most vulnerable people." - 'In praise of...INQUEST' editorial in The Guardian
INQUEST is a British charity which combines specialist support for bereaved people following a state related death, with the influence to achieve change in legislation, policy and practice.
For over 40 years INQUEST has been the driving force behind improvements in the investigation and inquest process and the support offered to bereaved people, lawyers, advice and support agencies, the media and parliamentarians.[1]
INQUEST is independent of government and entirely reliant on grants and donations to continue its vital work.[2]
Integrated approach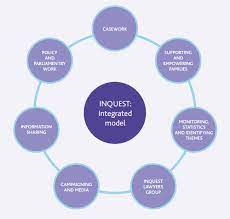 INQUEST's policy, parliamentary, campaigning and media work is grounded in the day to day experience of working with bereaved people. Employing an integrated model, this brings together casework support, family participation, identification of thematic trends, statistics and analysis that feeds into the organisation's work on campaigning, information sharing and policy and parliamentary work. At the heart of this unique model are the experiences and needs of bereaved people.
INQUEST's integrated approach is crucial to families, not only in making sure their voices are heard and holding the state to account for individual deaths, but also in changing policy and practice to prevent future deaths.[3]
Priority areas of work
Access to justice for families – equality of arms through developing a system which treats bereaved families with dignity and respect and supports them in navigating the legal process following a death and to achieve the truth;
Visibility with respect to all systems of care and detention – so that failures are exposed and changes can be made;
An end to all institutionalised forms of racism and discrimination – too often a root cause of system failure, individual neglect or violence; these must be recognised and addressed;
Accountability for institutional failings and failure to act – effective sanctions and 'accountable learning', so that real and relevant action is taken to reduce the number of deaths in future.
Campaigns
INQUEST is campaigning for:
Legal Aid for Inquests: Automatic non means tested legal aid funding for families' specialist legal representation immediately following a state related death to cover preparation and representation at the inquest and other legal processes. #LegalAidforInquests
A National Oversight Mechanism: A new, independent, public body with a duty to collate, analyse and monitor recommendations and their implementation arising from post death investigations, inquiries and inquests.
The Public Authority (Accountability) Bill: The reintroduction of 'Hillsborough Law' to Parliament to establish a duty of candour on state authorities and officers and private entities whose activities impact on public safety.
Alongside these three key demands, which go to the heart of the search for truth, justice and accountability after state related deaths, INQUEST has also outlined its policy recommendations on prisons, policing, mental health and learning disability and Grenfell.
Essex Mental Health Independent Inquiry
On 28 March 2022, INQUEST responded to the ongoing Essex Mental Health Independent Inquiry (EMHII) into the deaths of mental health inpatients in Essex by publishing an updated report:
This is the first public inquiry into mental health services that has ever been held in England and established by a Minister.

The inquiry has so far been made aware of 1,500 people who died while they were a patient on a mental health ward in Essex, or within three months of being discharged. They are looking at cases between the years 2000 and 2020.

They will be examining how this compares to other areas in England, and establishing the circumstances and arising issues in those deaths.

The inquiry was announced in November 2020 following powerful campaigning by bereaved families, led by Melanie Leahy. Her son Matthew, aged 20, was one of six people to die at the Linden Centre in Essex over a short period.

Over 75 families continue to campaign for a statutory public inquiry, in place of this one. Statutory inquiries are Judge-led and have more powers, including to compel witnesses to give evidence.

Selen Cavcav, Senior Caseworker at INQUEST, said: "We continue to believe that only an inquiry with more teeth, namely a statutory public inquiry, will restore trust and ensure the broad ranging scrutiny needed to tackle the unacceptable death toll of people under the care of Essex mental health services.

"Previous critical inquests, inspections and investigations of these services have failed to compel the transformation in culture and leadership that is clearly needed in Essex. This speaks not only to the issues locally, but to a national lack of accountability, scrutiny and oversight of deaths in mental health settings and the issues they uncover.

"We already know this inquiry will find failures, most of which will not come as a surprise to many bereaved families or survivors who have long fought for the truth. The value of this inquiry as it stands can only be judged by its impact in creating change. That change is long overdue."

Ten days ago, the inquest into the death of Bethany Lilley, 28, who was an inpatient under the care of Essex University Partnership Trust, concluded that neglect and a range of failures by the mental health services contributed to her death. She died on 16 January 2019. Her death is one of so many examples of the harms caused by these services.[4]
Board members
Professor Joe Sim, Professor of Criminology, Liverpool John Moore's University
Jennifer Nadel, Writer and campaigner
Ruth Bundey, Partner, Harrison Bundey Solicitors
Kevin Blowe, Coordinator, Network for Police Monitoring (Netpol)
Geraldine Isherwood (Treasurer), Finance Manager, Chelsea Apps Factory
Daniel Machover, Solicitor, Hickman & Rose
Rajiv Menon QC, Criminal defence barrister, Garden Court Chambers
Sigrun Danielsson, HR Manager, International Rescue Committee in Europe
Pete Weatherby QC, Barrister, Garden Court Chambers
Dr Patrick Williams, Senior Lecturer at Manchester Metropolitan University[5]
Staff team
INQUEST has a small team of full-time and part time staff as well as a number of volunteers and interns:
Arnaud Vervoitte, Operations and Development Director
Anita Sharma, Head of Casework
Lucy McKay, Media and Communications Manager
Rosanna Ellul, Senior Policy and Parliamentary Officer
Tanya Karastoyanova, Finance Officer
Mo Mansfield, Family Participation Coordinator
Rob Styles, Casework and Administrative Assistant
Yohanah Rodney, Caseworker
Jodie Anderson, Senior Caseworker
Raekha Prasad, Research and Policy Officer
Aniesha Obuobie, Grenfell Project Coordinator
Caroline Finney, Caseworker
Becky Higgins, Caseworker
Jemmar Samuels, Communications and Media Intern
Jessica Pandian, Policy and Research Officer
Mira Peliti, Operations and Development Officer[6]
Recruiting
INQUEST is a small organisation that punches well above its weight. Opportunities to join its dynamic and growing team are detailed here:
INQUEST is recruiting for a Heritage Project Manager to coordinate 40 Years of the INQUEST Project. It is an exciting opportunity involving archiving, oral history, storytelling & events.[7]
Please help in publicising the role by sharing and liking this post.
References