Ayesha Hazarika
Jump to navigation
Jump to search
Ayesha Hazarika is a second-generation Indian immigrant who grew up in Scotland. She is a former Special Adviser to Gordon Brown, Harriet Harman and Ed Miliband, and later became a broadcaster, spin doctor and stand-up comedian.
On 30 June 2016, she appeared on the BBC's "Victoria Derbyshire" show with Ann Coffey MP calling for Jeremy Corbyn to resign, while Mark Serwotka of the PCS union and James Schneider of Momentum argued Corbyn should stay as Leader of the Opposition.[1]
Editor, The Londoner
On 21 July 2019, Ayesha Hazarika was announced as the new editor of The Londoner, the Evening Standard's daily diary section. Editor George Osborne said:
"Ayesha is one of the brightest new stars of British journalism. She is already a brilliant columnist for the Standard – and she will now be a formidable editor of our diary pages. She builds on the great work of Charlotte Edwardes, who will now be able to focus full-time on the interviews and columns that have rightly won her awards. If you want to know what's really going on then it's simple: you have to read the Londoner."
Ayesha Hazarika said:
"I'm delighted to be joining the great team at the Evening Standard. I've always loved the paper ever since moving here from Glasgow more than 20 years ago, so it's a huge privilege to be editing the Londoner."[2]
Comments on Jeremy Corbyn
On 23 May 2016, Ayesha Hazarika mused:
"Whether we like it or not, we have to understand that the membership is still really into Jeremy Corbyn (as a recent Times poll confirmed) and that love-rush is going nowhere for a while.

And we can't just bypass the party as tempting as that may be. Because of the new rules, the members are the gatekeepers to the leadership – so there is no point in a kamikaze-like attempt at a coup. Yes, it would be interesting to watch but it would make the media and the Tories' day but ultimately, it would be embarrassing and it would fail. And to be fair to Jeremy – he won. He won big. And just because we don't like it, we can't magically hoof him out when the rules and the membership are against that.

Instead of getting bitter, we need to get better. Instead of holding out for a hero and trying to magic up a new leader, we need to go away and do all the boring difficult things we know we have to do but haven't done for a long time."
Ayesha Hazarika (23 May 2016)  [3]
Insulted
In October 2012, actor Hugh Grant swore at Ayesha Hazarika while discussing his campaign for good conduct and ethics in the media. The incident happened in a crowded bar at the Midland Hotel in Manchester at about midnight when, in his role as head of the Hacked Off campaign into press practices, the actor visited the Labour party conference to lobby party leader Ed Miliband.
A well-placed Labour source said:
"Grant and Ayesha were having a discussion about the next stage in press regulation. She was trying to explain something to him and he didn't like it. He suddenly got angry and called her a f****** a*******. Ayesha hit back and told him he had been "pretty f****** rude. He made a fulsome apology which she accepted."[4]
Honoured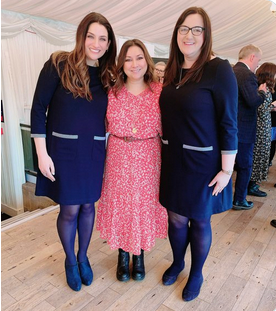 On 5 April 2022, Ayesha Hazarika tweeted:
"A huge honour to be invited to a reception for women fighting anti-semitism in the Lords alongside brilliant individuals including @TracyAnnO Ruth Smeeth & Luciana Berger. "Great to see women from across politics & from all faiths gathering in solidarity."[5]
"House of Lords antisemitism reception:

"Rumours suggesting there is a uniform for those not re-elected to parliament have been shown to be completely unfounded.
References