Al Martin
Jump to navigation
Jump to search
 Al Martin 
(mariner, businessman, deep state operative, whistleblower)
A US deep state operative who wrote a memoir about "
Iran Contra
".
Al Martin
Activities
"After he retired as a Lt. Commander from the US Naval Reserves, Al Martin's life went into the fast lane as a black ops specialist. "[1]
"Iran Contra"
Full article: Iran Contra

Yes.
Publications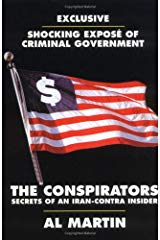 The Conspirators: Secrets of an Iran Contra Insider - "An uncensored and unprecedented revelation of Bush Family frauds and other criminal activities."[2]
As of 17 April 2021, our 16 Patrons are giving £80/month, which is 4/5 of our webhosting bill.
If you appreciate our efforts, please help keep this site running by donating or spreading the word about our Patreon page
.
References