Pump and dump
Jump to navigation
Jump to search
 Pump and dump
manipulating investors into buying shares in order to inflate the price artificially, and then selling one's own shares while the price is high, shortly before the inevitable crash
Pump and Dump denotes the fraudulent practice of encouraging investors to buy shares in a company or coin in order to inflate the price artificially, and then selling one's own shares while the price is high.[1]
An example
A special fiat token, Tether, was used to pump up Bitcoin in the following scheme: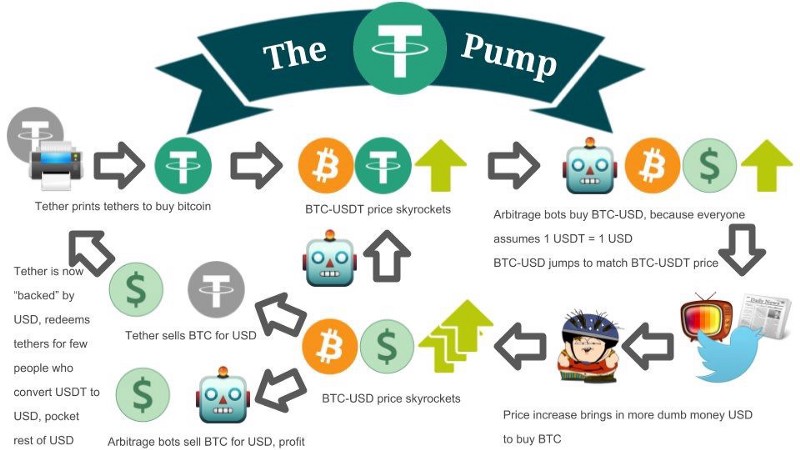 Effect
"Notice how Bitcoin only rises during times when Tether is seen injecting hundreds of millions into Bitcoin. And during the periods they stopped, we saw major market corrections."

"... the main contributor to the bull market has been a mysterious Chinese stable coin known as Tether. Tether has been riddled with controversy for years as the company continues to spread misinformation, fires auditors, and refuses to provide any real transparency regarding its backings."
Cryptowhale goes on to to call it "an unregulated, fully centralized, fiat-counterfeiting company founded by an enigmatic group of convicted criminals in China. ... This isn't just a story about a tiny fraudulent company. As I'm writing this, Tether is now valued at nearly $78 billion, which would rank it amongst the largest financial crimes in history. "[2]
External link
References