Michael Levine
Jump to navigation
Jump to search
"I have put thousands of Americans away for tens of thousands of years for less evidence for conspiracy with less evidence than is available against Ollie North and CIA people... I personally was involved in a deep-cover case that went to the top of the drug world in three countries. The CIA killed it."
Michael Levine (October 8, 1996)  [1]
Career
Michael Levine is a 25-year veteran of the Drug Enforcement Administration. He became disillusioned after finding that his investigations were never allowed to go all the way to the top. He has gained much attention for his criticisms of the CIA and its overruling of DEA operations.
Publications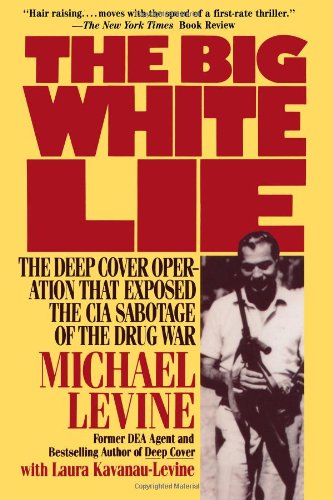 The book Deep Cover claims that Edwin Meese, the then US Attorney General, had blown the cover of a DEA undercover team, posing as a Mafia family, that had penetrated the office of the President of Mexico and was buying Mexican military protection for the transportation of 15 tons of cocaine through Mexico into the United States.[2]
Levine's follow up book as entitled The Big White Lie, coauthored with Laura Kavanau-Levine, tells about his daughter's struggles with drugs and about his brother, a heroin addict who committed suicide. He also charges that the "CIA and the Pentagon have for decades protected and supported the world's biggest drug dealers, and that the U.S. government has allowed top-level dealers and criminals to escape punishment".[3]
Later Activities
Michael Levine produced a radio show, Expert Witness Radio, interviewing people such as Tosh Plumlee, Sibel Edmonds, Cele Castillo and Ray McGovern.[4]
References