UN/SC
Jump to navigation
Jump to search
The United Nations Security Council (UNSC) is one of the six principal organs of the United Nations and is charged with the maintenance of international peace and security, accepting new members to the United Nations and approving any changes to the United Nations Charter. It has 5 permanent members (Russia, UK, France, China, USA) and 10 members rotate on an annual basis with all full members of the UN eligible to serve.
Powers of the UN Security Council include the establishment of peacekeeping operations, the imposition of international sanctions, and the authorisation of military action through Security Council resolutions; it is the only UN body with the authority to issue binding resolutions to member states. The UNSC held its first session on 17 January 1946.
Vetoes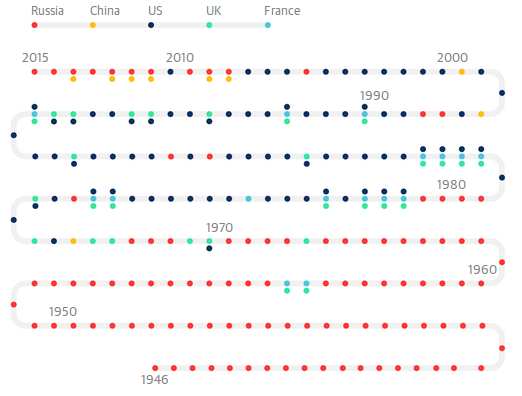 The five permanent members (P5) have the power of veto over the adoption of proposed substantive resolutions. The veto was used extensively by the Soviet Union from 1946 up to 1970, then in the 1980s and 1990s extensively by USA (often to prevent Israel from censure). More recently Russia – which replaced the Soviet Union in 1991 – and China – which became a P5 member in 1971 – tend to deploy their vetoes the most:
Arms Production
The 5 permanent UN Security Council members were all in the top 6 nations worldwide as regards arms export from 2012-2016.[1]
Known Participants
5 of the 5 of the participants already have pages here:
| Participant | Description |
| --- | --- |
| China | The most populous nation state in the world |
| France | A European nation, former colonial power, permanent seat on the UNSC |
| Russia | The largest nation state in the world |
| UK | The biggest Island in Europe. It was a world power with massive influence for over 4 centuries. |
| US | The United States is the single biggest military spender in the world, with a higher 2020 expenditure than the next ten countries combined. Its infrastructure has been described to be in disrepair since the late 1980s. |
Related Documents
| Title | Type | Publication date | Author(s) | Description |
| --- | --- | --- | --- | --- |
| Document:Gaddafi's 2009 speech: "Let's call it the UN Terror Council" | Speech | 23 September 2009 | Muammar Gaddafi | No one is above the UN General Assembly. All nations should be and should be seen to be on an equal footing. At present, the UN Security Council is security feudalism, political feudalism for those with permanent seats, protected by them and used against us. It should be called, not the UN Security Council, but the UN Terror Council. |
| Document:Hunger As A Weapon | article | 17 February 2014 | Franklin Lamb | On the US's exploitation at the UN Security Council of humanitarian suffering in Syria to cynically further its policy aims. |
| Document:Libya: Fine, but why Britain | article | 20 March 2011 | Brian Barder | David Cameron seemingly Gung Ho on toppling the Libyan leader, Muammar Gaddafi, while Barack Obama takes a back seat |
| File:Henderson-Testimony-UN.pdf | Transcript | 10 February 2020 | Ian Henderson (OPCW) | Transcript of the testimony of ex-OPCW inspector Ian Henderson before the UNSC on 20 January 2020 about the alleged chemical weapons attack in Douma, Syria on 18 April 2018, and the subsequent OPCW report about it. |
References