Halliburton
Jump to navigation
Jump to search
Halliburton is a US company. It has had "definite intention to hide [its] illegal behaviour.[1]
Official narrative
As of June 2017, Wikipedia reports that "the company has been involved in numerous controversies".[2]
Activities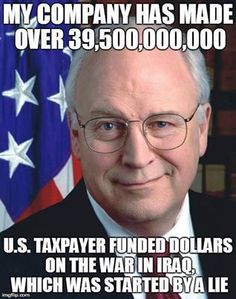 Acquisitions
In 1998, the group acquired Dresser Industries. A company which "provided a wide range of technology, products, and services used for developing energy and natural resources".[3]
Invasion of Iraq
Full article: Iraq War

On August 26, 2002, Cheney stated "There is no doubt that Saddam Hussein now has weapons of mass destruction. There is no doubt he is amassing them to use against our friends, against our allies and against us." Newsweek referred to it as "Cheney's Biggest Lie", yet said nothing about potential charges - as if mendaciously starting a war of aggression were not agreed to be "the supreme international war crime".[4] Cheney personally made millions of dollars from the Iraq war, while Halliburton made around $40 billion from contracts with the US government.[5]
Related Quotations
Page
Quote
Author
Date
Fracking
"Researchers at Halliburton Co's. Technical Center here working with Oak Ridge National Laboratory scientists, have combined the oil well cementing technique with the hydraulic fracturing production stimulation technique to entomb radioactive wastes in an impermeable shale formation a thousand feet underground. The method used at Oak Ridge begins by mixing the waste with a cement slurry, pumping the mixture down a hole drilled into the Conasuaga shale and then fracturing the shale to create a horizontal crack. The crack fills with the mixture to form a thin, horizontal sheet several hundred feet across. The mix sets to permanently hold the radioactive waste in the formation."
1964
Bill Gammell
"Either Gammel was an extremely visionary businessman, or he had great connections, or both. One way or the other, along with Enron and Cheney's Haliburton, Gammel's Cairn was soon making a fortune off oil in India, a country not noted for its prospects in that regard."
Russ Baker
Bill Gammell
John Perkins
"My job was to convince heads of state of countries with resources our corporations covet, like oil, to accept huge loans from the World Bank and its sister organizations. The stipulation was that these loans would be used to hire our engineering and construction companies, such as Bechtel, Halliburton, and Stone and Webster, to build electric power systems, ports, airports, highways and other infrastructure projects that would bring large profits to those companies and also benefit a few wealthy families in the country, the ones that owned the industries and commercial establishments. Everyone else in the country would suffer because funds were diverted from education, healthcare and other social services to pay interest on the debt. In the end, when the country could not buy down the principal, we would go back and, with the help of the International Monetary Fund (IMF), "restructure" the loans. This included demands that the country sell its resources cheap to our corporations with minimal environmental and social regulations and that it privatize its utility companies and other public service businesses and offer them to our companies at cut-rate prices."
John Perkins
Many thanks to our
Patrons
who cover ~2/3 of our hosting bill. Please join them if you can.
References