Edward Littlejohn
Jump to navigation
Jump to search
 Edward Littlejohn
(businessman)

Born
1917
Died
1993 (Age 76)
Nationality
Australian, American
Alma mater
Sydney University, London School of Economics, Harvard University

Little known advertising executive and US organiser of the second and

fourth Bilderberg

meetings
Edward T. Littlejohn worked in the Burroughs Corporation of Detroit, which was a major American manufacturer of business equipment, where he was director of public relations [1], from 1951 as assistant director.[2] He was on the Committee for a National Trade Policy, Inc. under George Ball with many other early Bilderbergers.[3]
Background
Littlejohn is Australian by birth. He studied in Sydney and at the London School of Economics[4], before graduating from Harvard University in 1941.
He served eight years in Australian Foreign Service, worked for Standard Oil and later Humble Oil and Refining, now Exxon Corporation, from 1959 to 1965. He then moved to Pfizer, pharmaceutical and health care company based in New York, and was named vice president of its public affairs division in 1971. He retired in 1981.[5][6]
Bilderberg
Edward Littlejohn was active in the early arrangements ('master minding') of the second and third Bilderberg Conferences, as this letter from fellow Bilderberger John Ferguson shows. (George= George Ball)
And this letter from general C. D. Jackson to Littlejohn, were the Americans believe Józef Retinger is a British 'secret agent'.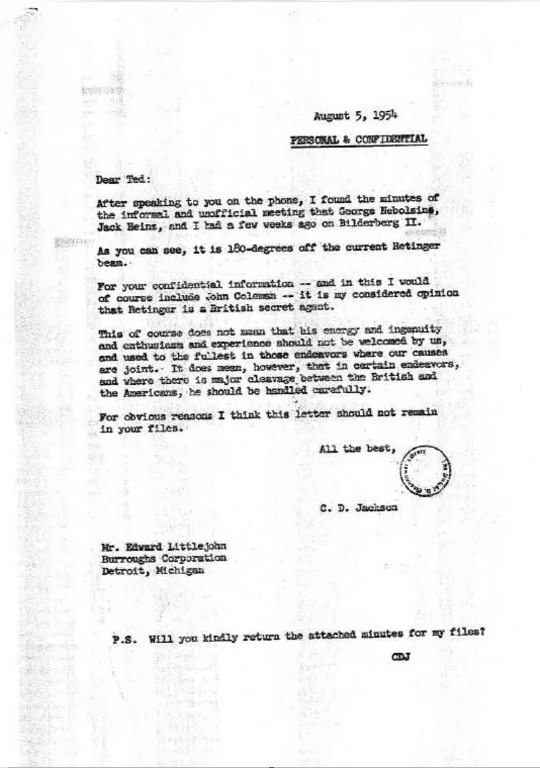 Events Participated in
Many thanks to our
Patrons
who cover ~2/3 of our hosting bill. Please join them if you can.
References