Difference between revisions of "Document:Invoice Visit to Norway 23-4 January 2018 Alex Finnen"
Jump to navigation
Jump to search
---
Revision as of 22:16, 10 November 2019
Proves Alex Finnen is connected to Norwegian cell

 spooky seminar invitation list  by Alex Finnen dated 23-24 January 2018"23-24 January 2018" contains more than three components required for a date interpretation.
---
Subjects:
invoice for influence work
Example of:
Integrity Initiative/Leak/5
Source:
'Anonymous'
(
Link
)
★ Start a Discussion about this document
5 July Seminar; Potential guest list for discussion
---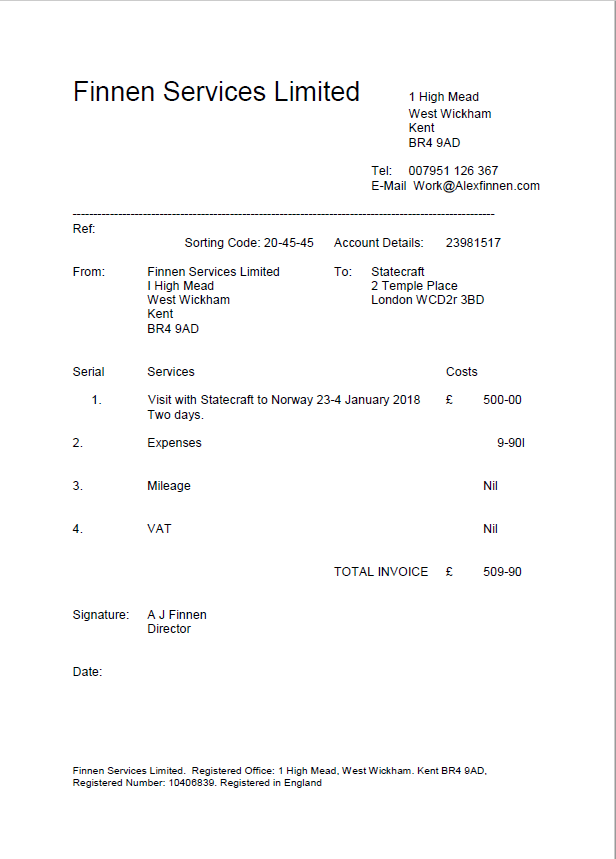 Finnen Services Limited 1 High Mead West Wickham Kent BR4 9AD Tel: 007951 126 367 E-Mail Work@Alexfinnen.com
---
Ref: Sorting Code: 20-45-45 Account Details: 23981517 From: Finnen Services Limited To: Statecraft I High Mead 2 Temple Place West Wickham London WCD2r 3BD Kent BR4 9AD
Serial Services Costs 1. Visit with Statecraft to Norway 23-4 January 2018 £ 500-00 Two days.
2. Expenses 9-90l
3. Mileage Nil
4. VAT Nil
TOTAL INVOICE £ 509-90
Signature: A J Finnen Director
Date:
Finnen Services Limited. Registered Office: 1 High Mead, West Wickham. Kent BR4 9AD, Registered Number: 10406839. Registered in England