Archibald Maule Ramsay
Jump to navigation
Jump to search
Captain Archibald Maule Ramsay was a Scottish soldier and later an MP.
The Right Club
Full article: Right Club

In May 1939 Ramsay founded a secret society called the Right Club, an attempt to unify the right-wing groups in Britain. In his autobiography, The Nameless War, Ramsay argued: "The main object of the Right Club was to oppose and expose the activities of Organized Jewry, in the light of the evidence which came into my possession in 1938. Our first objective was to clear the Conservative Party of Jewish influence, and the character of our membership and meetings were strictly in keeping with this objective."
Wartime internment
Ramsay was arrested and lodged in Brixton Prison on an order under Regulation 18B on 23 May 1940. He was never charged or tried, but kept in prison until 26 September 1944.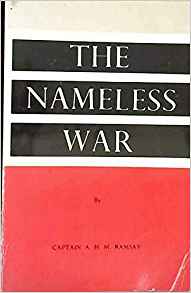 The Nameless War
In 1952 Ramsay published The Nameless War, about the influence of Jewish financiers in creating and profiting from wars. The book was suppressed and criticised as "anti-semitic".
Censorship
Amazon has removed some of its pages about Ramsay and The Nameless War.[1]
Death
Ramsay died in 1955.[How?]
A Document by Archibald Maule Ramsay
References